"MY LIFE, YOUR ENTERTAINMENT!"
Connected + Respected Entertainment Insider Roz-O is bringing you Lifestyle & Entertainment news as she jet-sets around the world! Get exclusive access behind the scenes of Music, Fashion, Sports & Film events & a glimpse of her 'ON-THE-GO' adventures. Roz-O's a force behind the scenes, cracking the blinds that shade her Entertainment Lifestyle for the first time! Roz-O says, 'I play the back, my peers put me in the front'. Google: RozOonTheGo
"Thanks for visiting my Personal Blog. The Official Blog Site coming 2014/2015. Wait for it!" - Roz-O!
Roz-O On The Go! The Brand. The Lifestyle. The Entertainment.
who is roz-O!?
roz-O endorsed!
social networks!
onTheGo!
Ask me anything
Submissions!
Follow @rozOonTheGo
October 29, 2013
ON-THE-GO:
VANESSA HUDGENS + her sister Stella spotted last night at the Universal Studios Halloween Horror Night in Los Angeles. 
July 31, 2013
STYLE ON-THE-GO:
Check out these stylish chicks! VANESSA HUDGENS + JESSICA SZOHR pose it up yesterday at American Eagle's 'Rock Your Walk' event in NYC!
Photo: Michael Simon
July 17, 2013
ON-THE-GO WITH VANESSA HUDGENS:
How stylish is Vanessa! She was spotted promoting her new movie, The Frozen Ground, at a London town Apple store on Tuesday. Her suit is giving me life! 
March 25, 2013
BOX OFFICE NEWS:
HOW DID THE 'SPRING BREAKERS' DO?
Well, after saturating every market with eye-popping promotions it paid off! The movie grossed an estimated $5 million from 1,104 venues over this weekend placing the film in sixth place at the box office. Congratulations to the entire A24 team, Harmony Korine and all the actors involved! xo @rozOonthego
March 6, 2013
The SPRING BREAKERS soundtrack is streaming online and I have your access thanks to Pitchfork!
One of my faves SKRILLEX produced the original score for the movie which boasts other notables such as: WAKA FLOCKA FLAME, Gucci Mane & RICK ROSS!
Get over to Pitchfork NOW to check out the movies soundtrack! xo @rozOonThego
March 4, 2013
VANESSA HUDGENS + COSMO
VH looks heavenly in her hippie gear! You can catch the 'Spring Breakers' starlet inside the March 2013 issue of Cosmopolitan Magazine. I think this style is cute + comfortable & I'm loving the gladiator sandals. I NEED them in my life, like today! Vanessa speaks about her 'gypsy bohemian' style during her interview. Check out an excerpt below & be sure to pick up the issue! xo @rozOonThego
"I'm a total gypsy bohemian," she says. "If I could go back in time, I'd be front row for Janis Joplin at Woodstock!" And speaking of concerts, Nessa talks about the Coachella Valley Music and Arts Festival, telling the mag, "The first time I went, I thought, 'This is heaven.' You just feel completely free. I'm going to go every single year until I die."

photo credit|hilary walsh
February 20, 2013
ON-THE-GO W/SELENA + VANESSA:
The 'Spring Breakers' co-stars are spotted looking stylish on the red-carpet in Berlin for their movie premiere. I almost thought Selena was a wax figure lol! Cute pic girls! xo @rozOonThego
photo credit: jochen zick|startraks
February 19, 2013
ON-THE-GO W/THE 'SPRING BREAKERS':
ASHLEY BENSON + SELENA GOMEZ + VANESSA HUDGENS + RACHEL KORINE shine on the red-carpet Monday in Paris for the premiere of 'Spring Breakers.' It seems like this film has been 'upcoming' for years! xo Follow me: @rozOonThego
credit: kcs presses|splash news online
January 22, 2013
INTERNATIONAL TRAILER: SPRING BREAKERS (OFFICIAL)
One of the 'Spring Breakers' stars covers the latest issue of NYLON Magazine: SELENA GOMEZ. She speaks on her new film where she stars alongside her good friend VANESSA HUDGENS. Little Miss Gomez rocks a JEREMY SCOTT Jersey on the cover and what I'm guessing is a bikini underneath?! She's not a little girl anymore folks. xo @RozOonThego
January 15, 2013
January 13: The very glamorous Vanessa Hudgens, Ashley Tisdale, Selena Gomez and Sarah Highland attends The Weinstein Company's 2013 Golden Globes After Party in Beverly Hills, California.
Spotted @billboard
photo credit|JB Lacroix|Wireimage
November 16, 2012
Vanessa Hudgens Threesome: Actress Talks Sex Scene With James Franco & Ashley Benson In 'Spring Breakers':
Vanessa Hudgens shot her very first sex scene and she never wants to do it again.
The 23-year-old actress has a steamy threesome with James Franco and Ashley Benson in the upcoming film "Spring Breakers," and it may have been too much for her to handle.
"It was very nerve-racking for me," Hudgens told the Glow magazine (via Just Jared.) "I told my agent that I never want to do it ever again."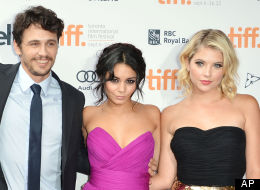 Hudgens stars alongside Benson and Selena Gomez, as college students who rob a bank in order to pay or their spring break trip. When the girls are caught they are bailed out by a drug dealer, player by Franco, and find themselves entangled in more than they bargained for. The film, directed by "Kids" screenwriter Harmony Korine, is a huge departure for both Hudgens and Gomez, who until now have stuck with more family-friendly flicks.
September 10, 2012
September 5: Vanessa Hudgens and Selena Gomez walk down the red carpet at the 69th Venice Film Festival with their "Spring Breakers" castmates, Rachel Korine and Ashley Benson.
May 4, 2012
All of us petite chicks know how the comfy Maxis can overwhelm a petite frame, but this tier style that VANESSA HUDGENS is rocking helps keep every thing streamlined! I'm loving her boho-chic look! Definitely an item that I'll be rocking this summer! xo @RozOonTheGo! #style
March 14, 2012
In Movie News: SELENA GOMEZ + VANESSA HUDGENS rolling (literally) on the set of their new film 'Spring Breakers', in St. Petersburg, FL. I want one of these so bad! Customized with my Mantra: Roz-O! On The Go!! xxoo @Roz-O!