"MY LIFE, YOUR ENTERTAINMENT!"
Connected + Respected Entertainment Insider Roz-O is bringing you Lifestyle & Entertainment news as she jet-sets around the world! Get exclusive access behind the scenes of Music, Fashion, Sports & Film events & a glimpse of her 'ON-THE-GO' adventures. Roz-O's a force behind the scenes, cracking the blinds that shade her Entertainment Lifestyle for the first time! Roz-O says, 'I play the back, my peers put me in the front'. Google: RozOonTheGo
Roz-O On The Go! The Brand. The Lifestyle. The Entertainment.
who is roz-O!?
roz-O endorsed!
social networks!
featured music!
mixtape spotlight!
sports chica!
Ask me anything
Submissions!
May 20, 2013
THE VOICE is on!!! MAROON 5 performing NOW! YES!!!!
May 16, 2013
RIHANNA + PHARRELL: Styled To Rock
That fashionable guy PHARRELL WILLIAMS will be supporting the fashionable chick RIHANNA by mentoring competitors on her upcoming show 'Styled To Rock'. The series will air on the Style Network offering 10-episodes and premiering sometime this year.
Rihanna is the producer of the show and she'll be searching for the 'next trendsetting designers' amongst 12 lucky competitors. They'll have the opportunity to create designs for A-list celebrities throughout the competition. What a great opportunity! They'll face challenges, they'll be mentored by Pharrell and they'll be under pressure through it all! Pharrell recently assisted singer Usher as a mentor on hit tv show, The Voice.  I liked his style of critique, so I and the Style Network think he's perfect for the job.
"We are delighted to have Pharrell, who is a driving force in both the music industry and fashion world, serve as a mentor on 'Styled to Rock," said Salaam Coleman Smith, president of Style Media. "Pharrell's unique aesthetic and commitment to individuality combined with Rihanna's vision for this series will enable our aspiring designers to hone their craft and learn from the very people who set the trends."
Tune in! xo Roz-O!
Source: billboard
May 7, 2013
May 2, 2013
OLD SCHOOL JOINT: I NEED A GIRL (PART I) - P. DIDDY FEAT. USHER + LOON
I miss these days! The game was so much fun! Shout out to my Bad Boy Family! Enjoy the tunes! Follow @rozOonTheGo @usher @diddy
April 30, 2013
VIDEO OF THE DAY: HEY DADDY (DADDY'S HOME)- USHER
It's Ursher *no typo* Baby! I love the dance sequences in this video! Classic Usher! Go ahead and get your workout on! This is the perfect record. xo @rozOonTheGo
Throwback Tuesday!
April 30, 2013
RECAP: THE VOICE - KNOCKOUT ROUND
I saw some serious fights tonight! In 'The Voice' language that means great competitors! Overall, I'm happy with everyone that the coaches decided to go with! If you didn't get to see tonight's show, click the link and get caught up! Gooooooo! xo 
Follow @rozOonTheGo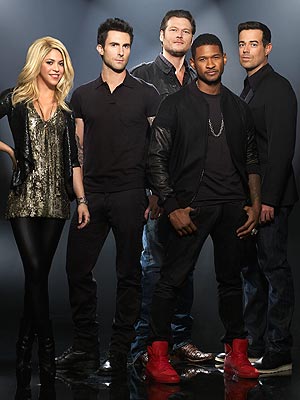 April 23, 2013
April 17, 2013
'THE VOICE' Recap: The Battle Rounds Heat Up!
Check out a breakdown of last nights battle rounds! I'm elated that they brought back the 'steal' option this season! Shakira got two great steals, she may have a chance at this now! Usher received a major upset, missing out on stealing a great artist. Adam Levine got a great steal as well! Blake Shelton was his funny self as usual and he has a pretty talented team as well. Enjoy the breakdown and be sure to tune in next week! xo @rozOonTheGo
April 11, 2013
THE VOICE Coaches Finalize Their Teams!
This is one music competition show that I DO watch and actually love! I'm ready for the 'Knockout Rounds'! It'll be sad to see some of the talented people go, but there can only be one winner! And oh, PHARRELL will be on the show assisting USHER with coaching! Yes! xo @rozOonTheGo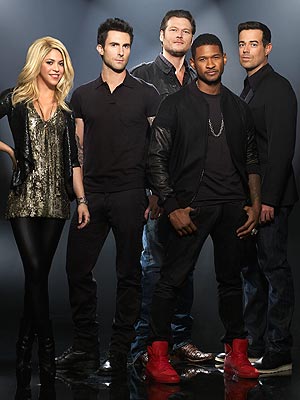 mark seliger/nbc
March 20, 2013
TV NEWS: 'THE VOICE' Season 4 Preview!
USHER & SHAKIRA are in the building folks! 
Talking to Rolling Stone at a luncheon following the screening, the show's creator, Mark Burnett, said he thinks viewers will gain new insight into the new judges. "I don't think you really know Usher and Shakira," he said. "Over the next three or four months, you get to know them as people."


After NBC screened the premiere show in front of a handful of journalists in L.A. the shows creator talked with Rolling Stone. Above is an excerpt, click the link for more! xo @rozOonTheGo
March 18, 2013
TV NEWS: 'THE VOICE' Is Back!
Are you guys ready to judge more talent on the hit show 'The Voice'?!
Well, get ready! NBC has announced that the schedule for 'The Voice' has been set. The season will start March 25th, going into the 'knockout' rounds on April 30th and will wrap up with 'the voice' being crowned on June 18th!
I'm happy that my tatted love ADAM LEVINE will be back as a coach along with Blake Shelton. Two 'rookie coaches' will join the team: USHER + SHAKIRA; taking the place of Christina Aguilera and Cee Lo Green. I'm looking forward to checking out the show! xo @rozOonTheGo
photo credit: mark seliger/nbc
February 15, 2013
NEW MUSIC: GO MISSIN' - USHER
Ok Usher fans, you asked for it, you got it! New music from Mr. Raymond. I need to live with this one for a minute before providing my verdict. Enjoy! xo @rozOonTheGo
January 12, 2013
PRESIDENT OBAMA Inaugural Update!
So, we all know the Inauguration is upon Us (January 21st) ! According to The Associated Press Katy Perry, Usher and fun. have been added to the amazing line-up for the inauguration events (ceremony + surrounding events)!
Check out the full list to date below!
Beyonce
James Taylor
Kelly Clarkson
Alicia Keys
Brad Paisley
Smokey Robinson
Marc Anthony
January 9, 2013
January 1: NBC releases a first look at new judges Usher and Shakira on "The Voice."
I actually really got into this show last season thanks to my ex-sister-n-law! I wasn't happy with some of the vote offs, but I was happy with the end results! I'm a fan of both Usher and Shakira so I can't wait to see what the upcoming season will bring! Will you be watching?! xo @RozOonTheGo
Photo courtesy of NBC.
Spotted @Billboard
November 19, 2012
Usher, music producer Noah '40' Shebib and rapper Drake stop for a photo in the audience at the 2012 AMAs.