"MY LIFE, YOUR ENTERTAINMENT!"
Connected + Respected Entertainment Insider Roz-O is bringing you Lifestyle & Entertainment news as she jet-sets around the world! Get exclusive access behind the scenes of Music, Fashion, Sports & Film events & a glimpse of her 'ON-THE-GO' adventures. Roz-O's a force behind the scenes, cracking the blinds that shade her Entertainment Lifestyle for the first time! Roz-O says, 'I play the back, my peers put me in the front'. Google: RozOonTheGo
"Thanks for visiting my Personal Blog. The Official Blog Site coming 2014/2015. Wait for it!" - Roz-O!
Roz-O On The Go! The Brand. The Lifestyle. The Entertainment.
who is roz-O!?
roz-O endorsed!
social networks!
onTheGo!
Ask me anything
Submissions!
Follow @rozOonTheGo
September 14, 2012
PORTFOLIO: JEREMY SCOTT
Fashion events give me life! xo @RozOonThego
June 1, 2012
America's Next Top Model: Who Won British Invasion?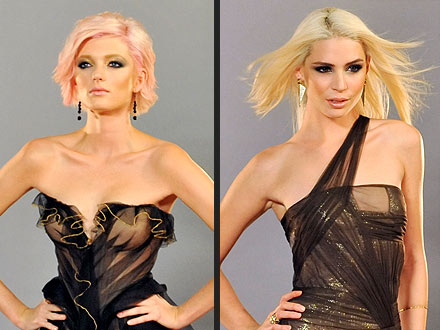 America's Next Top Model's clash of nations wrapped up Wednesday night, with Britain's Sophie Sumner and America's Laura LaFrate squaring off in the finale. 
So, who did their country most proud? Read on to find out the winner. 
After a dramatic finale that saw LaFrate rushed to the hospital early on with an apparent panic attack, it was Sumner who walked away with the title. The judges heaped praise on the British contestant, with host Tyra Banks even using the word "genius" to describe her work in one contest. 
The show's 18th cycle, themed "British Invasion," featured American and British models competing. The challenges in the finale included doing TV ads for Covergirl and a runway show with holograms. 
The prize was a spread in Italian Vogue, a Covergirl cosmetics contract and a modeling contract. 
In an interview after the finale, LaFrate, 20, a native of upstate New York, told the Albany Times Union that she was relieved not to have to keep the outcome a secret any longer. "I felt like I was lying to people," she said. 
Meanwhile, the second time was the charm for Sumner, 22, who competed, but didn't win, on Britain's Next Top Model's fifth cycle.
Via People.com
April 24, 2012
I mean, a girls' gotta do what a girls' gotta do! KATIE COURIC gets a little help before taking a picture with Supermodel TYRA BANKS. The two were captured goofing around on the red carpet Monday for the MATRIX AWARDS luncheon held at New York's famed Waldorf-Astoria Hotel. Miss Banks was honored for her communications work. Bravo to both of the ladies! xo @RozOonTheGo
February 20, 2012
INSPIRING INTERVIEW: 

I just read a few excerpts from a Tyra Banks interview on Necole Bitchie's blog. It definitely inspired me and I saw A LOT of myself in that interview! I encourage you to click the link and read it in it's entirety. xxoo @RozOonTheGo

On why she decided to attend Harvard Business School's Owner/President Management Program

There's a difference between a career and a business. I'm not looking to build my company based on fans," she said.  Rather, she feels a responsibility to spread her message of empowerment, self-esteem, and beauty in a way that's consistent with her ethos and, hopefully, favorable to her bottom line.

"[It's] not about being the biggest, but being the best.

On Being Compared to Oprah
"The comparisons are extremely flattering, impossible to live up to and inconsistent with my goals."

On what it takes to make it

"You have [to have] a drive that the average person does not have.  I've just started to take care of myself, and you need to do that, too."

"Don't chase the money, even if you want to be a banker.  Chase the passion. Chase the dream."

Read more: Tyra Banks: 'Oprah Comparisons Are Impossible To Live Up To & Inconsistent With My Goals' | Necole Bitchie.com