"MY LIFE, YOUR ENTERTAINMENT!"
Connected + Respected Entertainment Insider Roz-O is bringing you Lifestyle & Entertainment news as she jet-sets around the world! Get exclusive access behind the scenes of Music, Fashion, Sports & Film events & a glimpse of her 'ON-THE-GO' adventures. Roz-O's a force behind the scenes, cracking the blinds that shade her Entertainment Lifestyle for the first time! Roz-O says, 'I play the back, my peers put me in the front'. Google: RozOonTheGo
"Thanks for visiting my Personal Blog. The Official Blog Site coming 2014/2015. Wait for it!" - Roz-O!
Roz-O On The Go! The Brand. The Lifestyle. The Entertainment.
who is roz-O!?
roz-O endorsed!
social networks!
onTheGo!
Ask me anything
Submissions!
Follow @rozOonTheGo
May 5, 2014
I'm better than I was yesterday. xo rozoonthego
May 2, 2014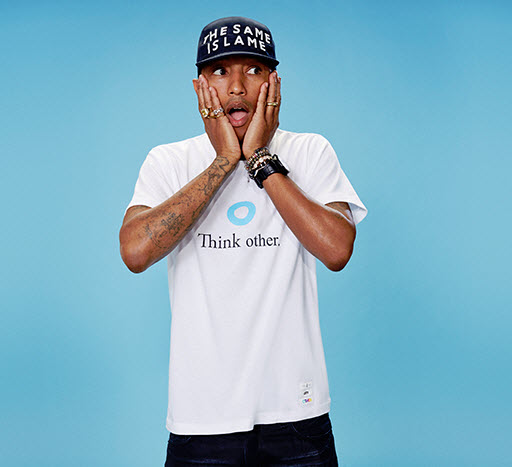 VIDEO: UNIQLO 2014: PHARRELL WILLIAMS + UT
Guess who's the new front man for Uniqlo UT 2014 Spring/Summer Collection? That 'Happy' guy Pharrell that's who! And guess what, there'll be a limited edition t-shirt for only $19.99 - he's rocking it in the photo above. Press play and check out the commercial.
Happy shopping! xo ROZ-O!
Source: Life Files
April 23, 2014
NEW VIDEO: MARILYN MONROE (OFFICIAL)
Salute the man of many hats! Literally & figuratively!
xo
ROZ-O!
April 14, 2014
NEW VIDEO: IT'S ON AGAIN - ALICIA KEYS + KENDRICK LAMAR (Produced by Pharrell)
Two of my favorites link up: A. KEYS + K. DOT! Press play, enjoy the new visuals
xo
#rozOonTheGo
March 17, 2014
STYLE ON-THE-GO:
BILLIONAIRE BOYS CLUB 2014 Spring/Summer line is here you loyal BBC supporters! Skateboard P + BBC never disappoint when it comes to showcasing that street-wear aesthetic and signature graphics. I'm liking the various hues showcased, along with the vintage-y sweatpants! You'll also see some washed denim, jackets and embroided chinos and it's all available now at the BBC online store!
http://www.bbcicecream.eu/billionaireboysclub
Happy shopping!
xo ROZ-O!
March 11, 2014
VIDEO OF THE DAY: MOVE THAT DOPE - FUTURE FEAT. PUSHA T + PHARRELL
Press play, enjoy the new rap visuals!
xo ROZ-O!
March 11, 2014
Alicia Keys + Kendrick Lamar Link Up!
I LOVE when real talent links up! Are you guys ready for a song written by Skateboard P, Alicia Keys, Kendrick Lamar and Hans Zimmer? Well, one has made it's way on 'The Amazing Spider-Man 2" soundtrack.
Pharrell produced "It's On Again" and it will be one of the star tracks on the "Spider-Man 2" soundtrack. A. Keys and K. Dot provide the vocals which close out the film! It's an upbeat song & Pharrell says that the artists "take the song to a whole new level."
"I'm very excited to be a part of such a powerful collaboration with Kendrick Lamar, Pharrell Williams and Hans Zimmer," Keys said in a release. "This is the next chapter in the 'Spider-Man' legacy and we really feel 'It's On Again' captures the experience, the story — and most importantly — the meaning behind the film, which is that we all have the potential to be extraordinary. There's a little bit of a super hero in all of us."
The soundtrack is scheduled for an April 22nd release date and the film hits U.S. theaters May 2nd.
xo ROZ-O!
February 24, 2014
VIDEO: PHARRELL PERFORMS AT THE BRIT AWARDS
February 19, 2014
My Man Pharrell Williams Will Bring Us "G I R L" on March 3rd!
Yes, I'm happyyyyyy (singing)! You should be too. The album will feature the smash hit "Happy" along with other tracks destined to top the charts!
"When Columbia Records presented me with the opportunity to make an album, three things came to mind," says Pharrell in a statement. "One was the sense of overwhelming honor that I felt when I realized that they were interested in partnering with me on the album that I had always dreamt of making. Two, it would have to feel festive and urgent. And three, I instantly knew it would be called 'G I R L'. I hope you like it." - Mr. Williams
Be sure to tune into the BRIT Awards tonight where Skateboard P will hit the stage performing 'Happy' in London town! xo ROZ-O!
Source: Billboard
February 17, 2014
VIDEO: PHARRELL + FRIENDS ALL-STAR 2014 PERFORMANCE
Grammy winner Pharrell had the internets going absolute NUTS last night! He ran through several hits during his powerful performance with the help of Snoop Dogg, Busta Rhymes, Diddy, Nelly and his N.E.R.D. guy Chad Hugo. This was a HUGE kick-off to the 2014 NBA All Star game by some Music Industry All-Stars! Skateboard P for president! HA!
Press play, enjoy the hits! xo ROZ-O!
February 1, 2014
VIDEO: PHARRELL TALKS LORDE, KENDRICK LAMAR, JAY-Z & MAKING MUSIC
"Hard Knock TV recently sat down with Pharrell Williams for an in-depth interview. In part one, Pharrell recalls several of his early music memories, explains how he's always felt "a little left of center," goes into detail about his creative process when he goes in the studio with an artist, and what his thought process was going into the making of Robin Thicke's "Blurred Lines." Additionally, the Producer of the Year award-winner goes on to talk about why he thinks artists like Lorde, Kendrick Lamar and Ed Sheeran are changing the game."
Source: High Snobiety
February 1, 2014
ON-THE-GO:
PHARRELL + BRAD PAISLEY onstage at 'The Night That Changed America: A Grammy Salute To The Beatles' in L.A.! Two of my faves!

Photo: Kevin Mazur
January 26, 2014
ON-THE-GO: GRAMMY WEEKEND 2014
MILEY CYRUS + PHARRELL attend the Clive Davis Party!
January 26, 2014
ON THE GO: 56TH ANNUAL GRAMMY AWARDS
PHARRELL WILLIAMS!
Photo: Kevin Mazur
January 26, 2014
"S/O to Pharrell for being Daft Punk's spokesperson tonight! Love those Robots!"
— xo ROZ-O!