"MY LIFE, YOUR ENTERTAINMENT!"
Connected + Respected Entertainment Insider Roz-O is bringing you Lifestyle & Entertainment news as she jet-sets around the world! Get exclusive access behind the scenes of Music, Fashion, Sports & Film events & a glimpse of her 'ON-THE-GO' adventures. Roz-O's a force behind the scenes, cracking the blinds that shade her Entertainment Lifestyle for the first time! Roz-O says, 'I play the back, my peers put me in the front'. Google: RozOonTheGo
"Thanks for visiting my Personal Blog. The Official Blog Site coming 2014/2015. Wait for it!" - Roz-O!
Roz-O On The Go! The Brand. The Lifestyle. The Entertainment.
who is roz-O!?
roz-O endorsed!
social networks!
onTheGo!
Ask me anything
Submissions!
Follow @rozOonTheGo
April 4, 2014
Where are they now? Still Winning! #salute
January 8, 2014
NICK CANNON + MARIAH CAREY celebrate their 5-year marriage anniversary with Ebony Magazine!
Congratulations to the red-hot couple! I just wish the magazine would've went with a better cover choice. I mean, I get it, I get it; but them being in the water on the cover like that just doesn't go over well with me. But hey! Be sure to pick up the issue guys! I'm interested in the 2014 Money Guide (Spend Smart, Retire Rich) article! xo
September 17, 2013
Shhhhhhhh …… don't tell anyone that Mariah gave Nas a Louis Vuitton Cigar Humidor for his 40th Birthday! Cuban anyone? I kid, I kid!
September 17, 2013
Caption This!
NAS + MARIAH CAREY spotted chatting it up during Nasir's 40th birthday celebration at Avenue NYC 9/12/13.
August 8, 2013
THROWBACK VIDEO: BYE BYE - MARIAH CAREY
July 25, 2013
THROWBACK VIDEO: WE BELONG TOGETHER - MARIAH CAREY
2005 throwback baby! This is a classic in my opinion and my opinion holds weight! Ha! The video is beautiful .. a dream wedding! Well, not in the sense of being torn between men, but beautiful! Enjoy the visuals and the tunes! xo @rozOonTheGo
May 30, 2013
MARIAH CAREY Has Left The Building: American Idol
Mariah confirmed the departure by tweeting: "Thank You American Idol for a life changing experience! Wouldn't trade it for the world! Time to focus on the Music!!! Mmmuuuaahhh!!!"
So bye-bye to Mimi, Nic + Randy!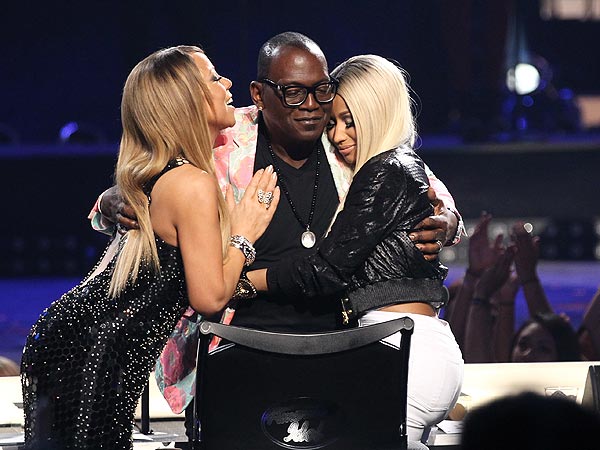 May 17, 2013
LIVE PERFORMANCE: MARIAH CAREY - AMERICAN IDOL
This chick has so many hits! Check her out performing a medley of "Vision of Love", "Make It Happen", "My All" and "Hero". As I watched, I sang at the top of my lungs. Don't judge me!
xo @rozOonTheGo
May 17, 2013
After 3 Years Of Trying Out CANDICE GLOVER Is The American Idol!
Yes, Candice Glover had tried out to compete three years straight! Once she was announced the winner, clearly overwhelmed, she managed to say the words: 'I can't even- oh my God. Three years! You see, I always say that timing is everything. If it's for you, nothing can stop that. Patience truly is a virtue and Candice Glover is a living example that if you truly believe in yourself and your talents you won't give up.  I haven't fully watched a season of Idol since the first two seasons, but I read the recaps and watch performances on Youtube, so I knew that Candice was clearly the frontrunner.
Both Candice and Kree Harrison are great talents and it wasn't easy for the fans or Idol judges. Mariah Carey said, "It's going to be very, very difficult for America to decide the winner". Both of these ladies will have successful careers! I wish all the competitors the best. It's not easy to go after such big dreams, so I salute them all. Now, Candice go get'em Ma! xo @rozOonThego
photo: frank micellotta
May 16, 2013
1999 THROWBACK: HEARTBREAKER (Remix) - MARIAH CAREY FEAT. DA BRAT + MISSY ELLIOTT
Heartbreaker you've got the best of me, but I just keep on coming back incessantly. Oh whyyyy did you have to run your game on me? I should have known right from the start you'd go and break my heart!
One of the best years of my career! Such great music came out in the 90's and I was blessed to be apart of 90% of the Pop hits! JAY-Z was on the original and SNOOP DOGG makes a cameo in the remix! Enjoy the visuals and the tunes! xo Follow @rozOonTheGo @MariahCarey  @daBrat @missyelliott
May 12, 2013
NOW PLAYING: CRYBABY - MARIAH CAREY FEAT. SNOOP DOGG
LOVE this record! Throwback from 1999 but it's still a regular on my slow jams play list! I love when Snoop says, 'You know you too fly to be crying'. Right! Enjoy the visuals and the tunes! xo Follow @rozOonTheGo 
Someone's clinging to me and it's bittersweet, 'Cause he's head over heels, but it ain't that deep. I finally changed my number, got a different pager, then last Saturday your cousin called to say, your trying to reach me, probably because you see that I'm with someone new.
May 10, 2013
NEW VIDEO: #BEAUTIFUL - MARIAH CAREY FEATURING MIGUEL
CUTE!
May 9, 2013
MOVIE TRAILER: THE BUTLER (OFFICIAL TRAILER) - OPRAH, FOREST WHITAKER
I MUST see this movie! Based on a true story we get a look at the life of Eugene Allen, who served eight presidents as the White House's head butler from 1952 to 1986, and had a unique front-row seat as political and racial history was made.
The film stars Forest Whitaker (Cecil Gaines) and Oprah Winfrey (Gloria Gaines) as his wife. The trailer is dramatic and it appears that the director, Lee Daniels captured the time well and it's such a great story to tell. Notable Co-Stars are: Terrence Howard, Alan Rickman, John Cusack, Jane Fonda, Cuba Gooding Jr., Minka Kelly, Lenny Kravitiz (Yes, Lenny Kravitz), Liev Shrieber and Mariah Carey. It's set to open October 18th! A few days after my born-day! OVO Roz-O! Ha!