"MY LIFE, YOUR ENTERTAINMENT!"
Connected + Respected Entertainment Insider Roz-O is bringing you Lifestyle & Entertainment news as she jet-sets around the world! Get exclusive access behind the scenes of Music, Fashion, Sports & Film events & a glimpse of her 'ON-THE-GO' adventures. Roz-O's a force behind the scenes, cracking the blinds that shade her Entertainment Lifestyle for the first time! Roz-O says, 'I play the back, my peers put me in the front'. Google: RozOonTheGo
"Thanks for visiting my Personal Blog. The Official Blog Site coming 2014/2015. Wait for it!" - Roz-O!
Roz-O On The Go! The Brand. The Lifestyle. The Entertainment.
who is roz-O!?
roz-O endorsed!
social networks!
onTheGo!
Ask me anything
Submissions!
Follow @rozOonTheGo
December 18, 2011
May 4, 2011
April 23, 2011
DDM Rock the Hammerstein NYC!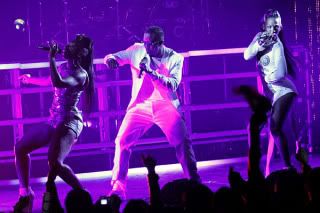 So I attended the Diddy Dirty Money Show in New York last night! It was crazy! I started off backstage making my rounds then I headed out to take my seat to catch Tyga rip the stage and witness Young Lloyd make women sweat….then came Diddy Dirty Money! I'll let you find out more details from the http://mtv.com article below. Check it out!
NEW YORK — It was the homecoming leg on his Coming Home Tour, so it was only fitting that Harlem-born Diddy threw a Ciroc-soaked "white party" on Friday as Diddy-Dirty Money hit New York's Hammerstein Ballroom. The trio worked the dance hits from their Last Train to Paris, but this was a show in three acts, with the mogul/MC reaching back to the dawn of Bad Boy to pay an expansive tribute to "Brooklyn's Finest" MC, the Notorious B.I.G., and bringing concertgoers along on a visual/sonic journey that spanned his unstoppable career.
Diddy-Dirty Money divas Dawn Richard and Kalenna Harper preceded Diddy to the stage in looks that seemed to channel Grace Jones: Dawn in a thigh-baring cutout dress and Kalenna in a glittery romper, both sharing the creamy palette with Diddy, who was dressed in a sporty, all-white ensemble. The ladies kicked things off with "Yeah, Yeah You Would" (which features Jones), before an energetic Diddy emerged for the dance-floor banger "Ass on the Floor," with Swizz Beatz delivering the hook via a pre-taped clip that was mounted on enormous projectors — an artfully executed stand-in used throughout the night for other LTP features like Rick Ross and Lil Wayne.