"MY LIFE, YOUR ENTERTAINMENT!"
Connected + Respected Entertainment Insider Roz-O is bringing you Lifestyle & Entertainment news as she jet-sets around the world! Get exclusive access behind the scenes of Music, Fashion, Sports & Film events & a glimpse of her 'ON-THE-GO' adventures. Roz-O's a force behind the scenes, cracking the blinds that shade her Entertainment Lifestyle for the first time! Roz-O says, 'I play the back, my peers put me in the front'. Google: RozOonTheGo
Roz-O On The Go! The Brand. The Lifestyle. The Entertainment.
who is roz-O!?
roz-O endorsed!
social networks!
featured music!
mixtape spotlight!
sports chica!
Ask me anything
Submissions!
April 12, 2013
MIXTAPE DL: KAREN CIVIL'S PLAYLIST Hosted By DJ SCREAM
Some of the hottest rap tunes of the moment - all on one tape! Enjoy! xo @rozOonTheGo Follow @KarenCivil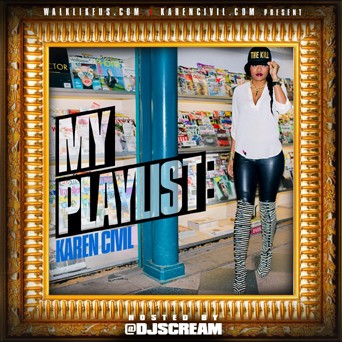 March 4, 2013
ON-THE-GO @ KENDRICK LAMAR'S 2 SOLD OUT NYC SHOWS:
Check out a few pictures courtesy of Jessica Lehrman from the epic shows in New York! K. Dot breathes hip-hop in my opinion and he smashed the stage performing hits; some with his label/band mates AB-SOUL + SCHOOLBOY Q! There's nothing like witnessing someone perform hot music with such passion. Some call him the 'New Kid On The Block'; I personally feel like he's been here forever! He's creating timeless music and that's what Hip-Hop .. what MUSIC is all about .. at least it should be! The crowd favorite was definitely 'Money Trees' but the room was just as energized with each track he performed! Follow me @RozOonThego xo
source: rollingStone
Ladies Love K. Dot.
He speaks: 
"I just got back from Europe," Kendrick tells Rolling Stone. "We were all over for, like, two months. There was no sun! And the food was terrible. But the fans out there are great. They don't understand one word of English, but when I drop 'Money Trees,' they're all right along with it. It kind of tripped me out. I wrote these songs in a kitchen in Compton!"



March 10, 2012
KENDRICK LAMAR, BLACK HIPPY Sign with Aftermath & Interscope:
Hip-hop collective Black Hippy — comprised of Kendrick Lamar, ScHoolboy Q, Jay Rock, and Ab-Soul — has reportedly signed a joint venture deal with Aftermath Entertainment and Interscope Records, Top Dawg Entertainment founder, Anthony "Top Dawg" Tiffith, told Fader. The move might not come as much of a surprise if you've been following Black Hippy for some time now. Rumors of an association with Aftermath founder, Dr. Dre, have been swiriling from the get-go.
Back in February, Kendrick and ScHoolboy talked to The Juice on their upcoming records, Q's then-recently released "Habits & Contradictions," as well as releasing music independently.
"The pros of being independent always have been to have that creative control," Kendrick told The Juice, "not only with your music but how you go about putting it out. At the end of the day, me putting out that free music helped me to get where i'm at now. i don't have the money to distribute my music out there—that's really the con of being independent."