Vanessa Hudgens Threesome: Actress Talks Sex Scene With James Franco & Ashley Benson In 'Spring Breakers':
Vanessa Hudgens shot her very first sex scene and she never wants to do it again.
The 23-year-old actress has a steamy threesome with James Franco and Ashley Benson in the upcoming film "Spring Breakers," and it may have been too much for her to handle.
"It was very nerve-racking for me," Hudgens told the Glow magazine (via Just Jared.) "I told my agent that I never want to do it ever again."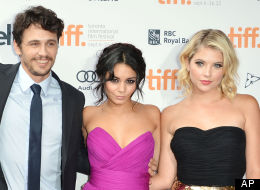 Hudgens stars alongside Benson and Selena Gomez, as college students who rob a bank in order to pay or their spring break trip. When the girls are caught they are bailed out by a drug dealer, player by Franco, and find themselves entangled in more than they bargained for. The film, directed by "Kids" screenwriter Harmony Korine, is a huge departure for both Hudgens and Gomez, who until now have stuck with more family-friendly flicks.