"MY LIFE, YOUR ENTERTAINMENT!"
Connected + Respected Entertainment Insider Roz-O is bringing you Lifestyle & Entertainment news as she jet-sets around the world! Get exclusive access behind the scenes of Music, Fashion, Sports & Film events & a glimpse of her 'ON-THE-GO' adventures. Roz-O's a force behind the scenes, cracking the blinds that shade her Entertainment Lifestyle for the first time! Roz-O says, 'I play the back, my peers put me in the front'. Google: RozOonTheGo
"Thanks for visiting my Personal Blog. The Official Blog Site coming 2014/2015. Wait for it!" - Roz-O!
Roz-O On The Go! The Brand. The Lifestyle. The Entertainment.
who is roz-O!?
roz-O endorsed!
social networks!
onTheGo!
Ask me anything
Submissions!
Follow @rozOonTheGo
November 18, 2013
SONG OF THE DAY: GIFTED - FRENCH MONTANA FEAT. THE WEEKND
Press play, enjoy the tunes.
November 4, 2013
ROZ-O'S NOW PLAYING: MY LIFE - MEEK MILL
Dreamchasers 3, baby! Press play & enjoy the rap tunes! xo ROZ-O!
I'm well respected in my city .. even out of town. 
August 2, 2013
RICH GANG DEBUTS #2: 24K
Cash Money Records co-founder Birdman brings together a host of artists for the "Rich Gang" compilation album, which debuts at No. 2 on Top R&B/Hip-Hop Albums with 24,000 copies, according to Nielsen SoundScan. Though most of the artists on the crew album are Birdman's Young Money/Cash Money labelmates, it also features appearances by the likes of Rick Ross, Chris Brown, Kendrick Lamar and French Montana.

The set's high debut this week coincides with its lead single "Tapout," performed by Lil Wayne, Birdman, Future, Mack Maine and Nicki Minaj, breaking into the top 10 of Hot R&B/Hip-Hop Songs for the first time (13-10). The raunchy cut sold 29,000 downloads, a 7% increase, and notched 1.7 million streams, up 8% according to Nielsen BDS. In terms of Nielsen-era top 10s on the list (from Dec. 1992 onward), this is Lil Wayne's 35th hit, extending his lead over Drake and R. Kelly's 32 top 10s apiece.
Via Billboard
YMCMB ain't got NO worries! xo @rozOonTheGo
May 15, 2013
NEW MUSIC: GIFTED - FRENCH MONTANA FEAT. THE WEEKND
It NEVER fails! The Weeknd absolutely dominates every record that he's 'featured' on! I haven't listened to a lot of French Montana's music, but when I heard about this single featuring the Canadian crooner I had to press play. I'm not disappointed. Especially being that it seems like the record belongs to The Weeknd. No shade to French. You dropped some cool verses. Ok, less talk from me .. press play and be carried away!
xo @rozOonTheGo S/o to Karen Civil for dropping the exclusive!
Gifted when he's faded /Faded all the time /I know that's when they love me /They love me when I'm high."
SN: French Montana's debut album 'Excuse My French' drops Tuesday, May 21st! 'Freaks' featuring Nicki Minaj and 'Gifted' are great set-ups! I'm intrigued.
May 15, 2013
NEW VISUALS: WORK (OFFICIAL REMIX) - A$AP FERG FEAT. A$AP ROCKY + FRENCH MONTANA + TRINIDAD JAMES + SCHOOLBOY Q
This is like a rap festival! Check out the new video for A$AP Fergs single 'Work'. 
April 12, 2013
MIXTAPE DL: KAREN CIVIL'S PLAYLIST Hosted By DJ SCREAM
Some of the hottest rap tunes of the moment - all on one tape! Enjoy! xo @rozOonTheGo Follow @KarenCivil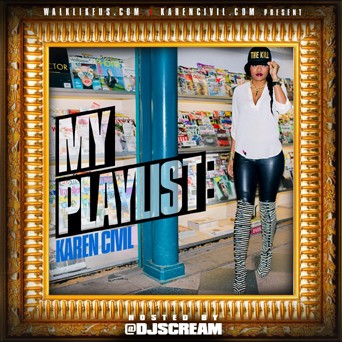 April 8, 2013
ICE CUBE + Coors Light: Coldest MC Search
I came across a Billboard article where one of my favorite west coasters ICE CUBE discussed his second year teaming up with Coors Light on the search of the nations 'Coldest MC'. There's $20,000 up for grabs folks!
Cube signed on to promote the Coors brand in 2011 and has appeared in ADs 'aimed at widening the liquor company's audience.' Rapper BUN B and the homie DJ DRAMA will join him on the cross-country search. It's a 8-city tour that'll make stops in Charlotte, New Orleans, Philly and Atlanta. 'From April 1-April 27th, contestants (21 & Over) can upload audio tracks or video submissions of an original song to be voted on by fans until June 30th. The grand finale concert is in the City of Dreams .. New York on August 1st where they'll crown the winner!
'In addition to the competition, Coors is throwing the 2013 Search For The Coldest tour, featuring performances from JUICY J, FRENCH MONTANA, PUSHA T and more. I like the sound of this movement Coors! Be sure to visit Billboard.com to see full details and more information on Ice Cube's moves! *Throwing up the dub* #rozOonTheGo
March 11, 2013
VIDEO OF THE DAY: FREAKS - FRENCH MONTANA FEAT. NICKI MINAJ
February 21, 2013
FRENCH MONTANA + WALE + SNOOP DOGG + DIDDY
At the 'Reincarnated' screening in LA! I'm hearing great things about it Snoop! xo @rozOonThego
December 21, 2012
December 18: DJ Khaled, French Montana, and A$AP Rocky attend 'T.I. In Concert' in New York, United States.
September 1, 2012
SONG OF THE DAY:  POP THAT - FRENCH MONTANA FEAT. RICK ROSS + DRAKE + LIL WAYNE
Have a popping Labor Day Weekend Folks! BE Safe! xo @RozOonTheGo
July 17, 2012
BEHIND THE SCENES:  'FUNCTION' REMIX - E-40 FEAT. YOUNG JEEZY + FRENCH MONTANA + CHRIS BROWN
FOLLOW @RozOonTheGo @ChrisBrown @YoungJeezy @E40 @FrenchMonTanA
July 11, 2012
SONG OF THE DAY:  PLAY YOUR PART  - RICK ROSS FEAT. WALE, FRENCH MONTANA + CHESTER FRENCH
This record stays on repeat & it's my soundtrack for the day! I'm looking forward to 'GOD FORGIVES, I DON'T' dropping JULY 31ST! I have such a strong respect for @RickyRozay & I hope to work with him one day soon! Hopefully, I'll have some exclusive content for you all! Stay tuned! xo @RozOonThego
June 23, 2012
KID INK, ILL WILL Talk 'Up & Away' Album + Chart Success:
When Kid Ink first met his manager, DJ Ill Will, CEO of Tha Alumni Music Group, in June 2010, the Los Angeles producer/artist was simply "dabbling" in rapping. At the time, neither one had any idea that Ink's first album would make a splash on the Billboard charts. 

This week, the 26-year-old's introductory album, "Up & Away" (Tha Alumni Music Group), debuts at No. 20 on the Billboard 200, No. 3 on Top R&B/Hip-Hop Albums and No. 2 on Top Rap Albums. The set sold 20,000 in its first week, with 97% of sales coming from downloads, according to Nielsen SoundScan. 

In just two years, Ink built a buzz through a grass-roots movement including touring, merchandise and self-produced online projects. The rapper has released three mixtapes — "Crash Landing" (2010), "Daydreamer" (2011) and "Wheels Up" (2011) — and collaborated with notable names like Chris Brown and Meek Mill without compensation. Ill Will, who spent five years working with Brown and others, also helped Ink's climb to the top. All of Ink's ­official videos are uploaded to Ill Will's YouTube channel, which has garnered close to 133 million views.