"MY LIFE, YOUR ENTERTAINMENT!"
Connected + Respected Entertainment Insider Roz-O is bringing you Lifestyle & Entertainment news as she jet-sets around the world! Get exclusive access behind the scenes of Music, Fashion, Sports & Film events & a glimpse of her 'ON-THE-GO' adventures. Roz-O's a force behind the scenes, cracking the blinds that shade her Entertainment Lifestyle for the first time! Roz-O says, 'I play the back, my peers put me in the front'. Google: RozOonTheGo
"Thanks for visiting my Personal Blog. The Official Blog Site coming 2014. Wait for it!" - Roz-O!
Roz-O On The Go! The Brand. The Lifestyle. The Entertainment.
who is roz-O!?
roz-O endorsed!
social networks!
onTheGo!
Ask me anything
Submissions!
Follow @rozOonTheGo
February 2, 2014
ON-THE-GO SUPER BOWL WEEKEND 2014:
Salute! ADAM LEVINE performing during Howard Stern's Birthday Bash at Hammerstein Ballroom.
Photo: Larry Bussaca
February 1, 2014
ON-THE-GO SUPER BOWL WEEKEND 2014:
JON BON JOVI + ADAM LEVINE at Howard Stern's Birthday Bash presented by SiriusXM.
Photo: Kevin Mazur
September 23, 2013
ON-THE-GO: iHEART MUSIC FESTIVAL 2013
ADAM LEVINE OF MAROON 5! YASSS! 
Vegas Baby!
September 9, 2013
ON-THE-GO:
ADAM LEVINE (love!) + KEIRA KNIGHTLEY spotted celebrating their film 'Can a Song Save Your Life' in Toronto! It was a Grey Goose bash ;). To answer the question, yes, a song can save your life .. music saved mine!
August 2, 2013
MAROON 5 Talks to Billboard About Summer Tour!
"I think it's gonna be a great show," Valentine says. "I mean, Kelly is one of the greatest performers of our time. Think about how long she's been around now. What a freakin' voice. It's going to be awesome to go on after her every night, 'cause that's gonna really force us to bring it. When there's a great performer in front of us it kinda lights a fire under our ass. I know we had that on this last (North American) run with Neon Trees; Tyler Glenn was out there doing his full Freddie Mercury, and I think it pushed Adam to reach deeper every night. I know Kelly will force that, too."
Go here for the entire interview! Love these guys! xo @rozOonTheGo
Photo: Terry Richardson of course! Aka my future personal photographer! Ha!
July 27, 2013
NOW WATCHING: ONE MORE NIGHT - MAROON 5
I love this track and I'm such a fan of Maroon 5. I'm still a little upset that Adam is getting married, but I'll get over it. I guess! Enjoy the visuals!
SN: I wish them the best! ;)
June 3, 2013
Q&A With JUDITH HILL: Shocking Elimination, Michael Jackson ..
Judith called in and spoke with Rollingstone while in New York. She spoke about being eliminated from The Voice (Crazy!), believing that her connection to MJ may have sealed her fate and on the controversial remark from her coach Adam Levine. 
Check it out! I said it before and I'll say it again, it's crazy that she was eliminated, but she'll be just fine! She'll go on to have a very successful career. She was bigger than that show, but it served it's purpose for her.
May 29, 2013
THE VOICE Recap: Judith Hill + Sarah Simmons Cut! RIDICULOUS!
I was on-the-go so I wasn't able to catch the elimination show last night. But I woke up to the crazy news that two of the BEST performers on the show were eliminated! Those two girls are clearly stars and honestly, they'll be widely famous singers regardless. Take the American Idol 'losers' for example, most of them went on to be much bigger successes than the 'winners'. Sometimes having that title attached to your name isn't always good, "American Idol" or "The Voice". I'm saying this as a Music Industry professional.
In addition to seeing how America got it wrong, I heard the news of my favorite Adam Levine being bashed for his response to the girls being cut. He made the remark, "I hate this country." I saw the video footage, but I didn't need to. I know from watching the show that he clearly meant it jokingly. I'm not saying this because I'm a fan of his, I'm saying it because it's what I believe. I bet half of the people commenting don't even watch the show and didn't watch the actual footage to hear the sarcasm in his voice. Should he have been more aware of what he said? Yes. Was there malice behind it? No.
It's a live show and they all tend to say things that I'm sure they wish they could take back. Are any of them as serious as Adam's comment? No, but I truly believe that he does not hate this country. Come on people. Hell, if I was watching and saw how 'America' voted I probably would've made the comment and clearly, I don't hate America; if I did I would move. Oh, save your negative comments, I'll probably just reply sending you the freedom of speech.
Love is Love!
xo @rozOonTheGo
P.S. I wish all the contestants left the best of luck! I won't be watching any longer however.
May 22, 2013
OFFICIAL VIDEO: LOVE SOMEBODY - MAROON 5
YES! We some them perform and tease the video on THE VOICE the other night, now here's the full visuals! Enjoy!
May 8, 2013
ADAM LEVINE Signed a Development Deal With NBC!
I'm happy for any Adam Levine news so I was pretty stoked when I came across this on Rollingstone.com! According to the site, the Maroon 5 singer has signed a 1-year first-look development deal with the network along with his manager-turned partner Jordan Feldstein (Brother of actor Jonah Hill). The two are expected to create scripted and other programming for NBC. I can not wait!
"It would be impossible to quantify Adam's influence and importance to the success of The Voice," said Paul Telegdy, president of alternative and late night programming for NBC Entertainment. "Given those enormous contributions, we're very anxious to work with him and Jordan to see what future shows they develop that can find a home here at NBC."

Congrats Adam! Read more here. xo follow @rozOonTheGo
May 7, 2013
April 30, 2013
RECAP: THE VOICE - KNOCKOUT ROUND
I saw some serious fights tonight! In 'The Voice' language that means great competitors! Overall, I'm happy with everyone that the coaches decided to go with! If you didn't get to see tonight's show, click the link and get caught up! Gooooooo! xo 
Follow @rozOonTheGo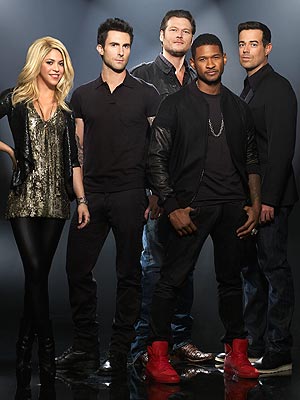 April 25, 2013
BILLBOARD MUSIC AWARDS LINEUP:
SELENA GOMEZ + MACKLEMORE + PITBULL + CHRISTINA AGUILERA join the Billboard music awards! I can't forget RYAN LEWIS, THE BAND PERRY AND Kacey Musgrave who'll also be apart of the 'star-packed' performance line-up on May 19th!
So, who leads the finalists at this years event? Taylor Swift, fun. and Maroon 5! Each of them are included in, get this, 11 categories! Your beloved Rihanna is in 10 categories. The icon that is PRINCE will be honored at the ceremony with the Billboard Icon Award! That's so fetch!
The show will air live on ABC from the MGM Grand Garden Arena in Las Vegas, hosted by the funny man Tracy Morgan and Don Mischer will produce the show.
source: billboard
April 23, 2013
April 17, 2013
'THE VOICE' Recap: The Battle Rounds Heat Up!
Check out a breakdown of last nights battle rounds! I'm elated that they brought back the 'steal' option this season! Shakira got two great steals, she may have a chance at this now! Usher received a major upset, missing out on stealing a great artist. Adam Levine got a great steal as well! Blake Shelton was his funny self as usual and he has a pretty talented team as well. Enjoy the breakdown and be sure to tune in next week! xo @rozOonTheGo