"MY LIFE, YOUR ENTERTAINMENT!"
Connected + Respected Entertainment Insider Roz-O is bringing you Lifestyle & Entertainment news as she jet-sets around the world! Get exclusive access behind the scenes of Music, Fashion, Sports & Film events & a glimpse of her 'ON-THE-GO' adventures. Roz-O's a force behind the scenes, cracking the blinds that shade her Entertainment Lifestyle for the first time! Roz-O says, 'I play the back, my peers put me in the front'. Google: RozOonTheGo
"Thanks for visiting my Personal Blog. The Official Blog Site coming 2014. Wait for it!" - Roz-O!
Roz-O On The Go! The Brand. The Lifestyle. The Entertainment.
who is roz-O!?
roz-O endorsed!
social networks!
onTheGo!
Ask me anything
Submissions!
Follow @rozOonTheGo
September 1, 2013
August 13, 2013
"Hey my lovely followers! Roz-O here! The posts on this Tumblr blog will be delayed a bit while I work on the creative and building for my official blog! Thanks for your patience, love and support!"
— xo @rozOonTheGo
August 2, 2013
July 22, 2013
ROZ-O IN THE BOOTH:
The iPhoto Booth that is! I just wanted to say hello to all of my wonderful supporters and give a quick update! As you may have noticed my blog hasn't been as frequently updated as usual but for good reason. I'm working on the creative for the Fall 2013 relaunch and I KNOW you guys will love it! You'll finally get to see the ON-THE-GO mantra played out and you'll be flooded with news and updates from all major events and happenings in and around the Entertainment Industry! You guys stick with me through it all and it's because of you that I know I'm on to something great. So, THANK YOU! I see your messages, I see your reblogs, likes and comments .. I SEE YOU! 
Thanks for your patience. All good things take time and nothing rushed lasts long! Keep dreaming. Stay focused. Have a wonderful week! xo @rozOonTheGo
June 8, 2013
"Some don't understand this Tumblr Life, but I do, every time I log on! The support you all give me is tremendous and I can't wait to return the favor with the launch of the official blog! This is just a taste! Thanks for your patience & support!"
— xoxo Roz-O!
March 12, 2013
"OVER 100 'followers' in 24 hours! Welcome & thanks! I'm going through my messages now as well and I HEAR YOU loves … the official blog will launch VERY SOON! It's going to be so DOPE! Greatness takes time & I can guarantee YOU'LL LOVE IT! Thanks for your support! x's and o's"
— Roz-O
February 20, 2013
ON-THE-GO W/ROZ-O!:
Hey my wonderful 'followers'! Happy Hump Day! I wanted to send a quick 'THANK YOU' out to you all! In the last week I've averaged 50-60 new followers per day! That's freaking AMAZING! I can not wait to bring you guys the 'official blog'! I can only hope to continue giving you what you want AND more! I have the behind the scenes access and through me, so will you! Music, Fashion, Sports & Film! Oh boy! Get ready!
Be sure to follow my twitter accounts @rozOonTheGo and @rozO_Promo .. tell a friend! xo
February 5, 2013
DJ LOVE: NERVO Duo!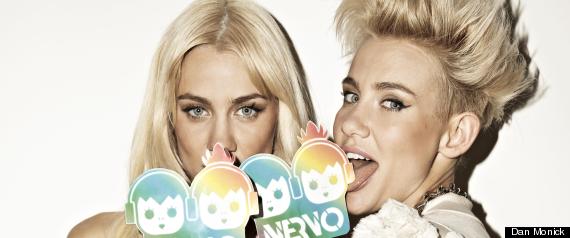 ON THE GO W/NERVO: OLIVIA + MIRIAM
CoverGirl got it right when they signed the DJ and production duo NERVO 'to fit the brand's "beauty with an edge" motto!' The girls are gorgeous AND very talented having produced tracks for major talent such as Armin van Buuren & Ke$ha to name a couple. I got a chance to see them rock out at Miami's Ultra Music Festival; what an experience! I spotted an article on Huffpost where the girls spoke in depth about their love for social media: Instagram, Twitter, Facebook & Tumblr. Check out a statement below and be sure to follow them; they love their fans! xo @rozOonTheGo
We're going through a healthy obsession with our social media lately, particularlyInstagram. Pictures can say so many words in just a few seconds. We love interacting with our fans. Even if they can't be at our gigs they can still share in the craziness via our [social media profiles]. Our fans tell us what they want to hear us play, what they're going to wear to the gig, who they're going to the gigs with. Their excitement is infectious and makes us want to be better for them. #truestory
November 13, 2012
Beyoncé Returns to the Studio, Shares Personal Photos on Social Media: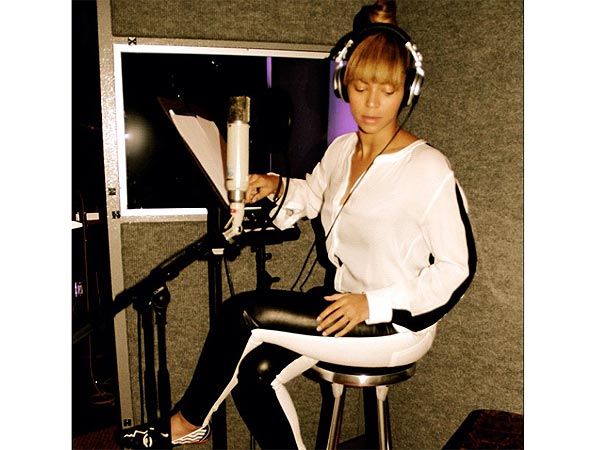 It's been a year of new joys for Beyoncé with daughter Blue Ivy. Now, though, she seems to be reconnecting with her first love – music.
The singer, 31, who is already schedule to perform at the Super Bowl in February, posted some personal photos online this week, including one from the studio – in which she's seen rocking black-and-white leather pants and a matching top. 
She shows off the outfit in more detail in another group of photos: the Rag & Bone pants and the abstract Nicholas Kirkwood shoes with what look like two faces staring at each other. 
In another photo, she tries out a long-sleeve, collared silk shift dress with a colorful baroque print. 
Beyoncé has been connecting with fans online more often this year, both through her Tumblr – part of the recently redesigned Beyonce.com – and now on Instagram. 
She has returned to performing sporadically this year, including a few shows over Memorial Day weekend and an appearance with husband Jay-Z in October. But the Super Bowl show will mark her grand return to the stage.
Spotted @People.com
Get'em B! xo Roz-O!
September 19, 2012
IN THE BOOTH WITH ROZ-O!:  Hey guys/gals! Roz-O checking in! First & foremost thank you for all of your support from start, up until now! I truly appreciate it! Your emails, inbox messages & mentions on twitter mean the world to me! Thank you for patiently waiting for the 'official blogsite' to launch; it'll arrive at the right time. In the meantime, please continue to enjoy my Tumblr & continue sending your questions, suggestions & comments; I read them all & I try to reply to as many as I can. Be sure to follow my assistants Cassie & Tyanna on twitter & they'll definitely follow you back! For those contacting me about background info, submitting music & general business inquiries check out my business blog! Enjoy the rest of your week & keep the love coming :)!
xoxo @RozOonThego
Entertainment Insider
(Music, Fashion, Sports & Film)
September 17, 2012
MILK MADE: TUMBLR'S New Style-Blogging Army!
Our partners at Tumblr have brought six of their youngest, most successful and stylish bloggers to MADE fashion week. In this, the first of our daily series of profiles we speak to Rachel Schwartzmann a 19-year-old New York City based FIT student and the personality behind The Style Line
Milk Made: So what were you doing before you started The Style Line?
Rachel Schwartzmann: I was always doing something creative and come to think of it I was always blogging. I had Xanga, Livejournal and Blogger accounts (I'm still currently on blogger too) and I was writing about my exciting endeavors as a tween… Note the humor. But in high school I was primarily focused on becoming a dancer. I went to a performing arts high school for dance, and for a long period of time, performance was my world.
MM:Is the blog your day job now?
RS: Yeah you could say that, but I still have responsibilities as a student. Despite the juggling act, I've made it a priority to make The Style Line the best it can be and over the last year it's really gained an incredible amount of traffic. I don't mean to brag but it just broke 100k followers. It's insane… I always hope to emulate a sense of integrity and personality in my content - I think that's generally attractive to anyone.
August 7, 2012
DEADMAU5: 'I'm Basically Pretty Miserable Right Now'
This comes as no surprise to me because the Superstar DJ spoke similar words just a few months ago on his twitter and facebook pages. This time he reveals the below words via a post on his Tumblr. I know personally how crazy this business can get and pulling back a bit is needed at times. I wish him the best! xo @RozOonTheGo
Deadmau5 posted:
So heres whats happening. im going to unplug for a wee bit. which doesnt mean im cancelling any upcoming shows or anything, im just gunna slam on the breaks for a bit and force myself to endure some quiet time. in that time, obviously the gears will still be moving, ill still be writing, and the releases will still come out (heads up for something crazy real soon like) and yeah.
i got a lot of work to do on some stuff. so, best i just chill the fuck out a bit and just get it done, and get it done RIGHT, until im 100% satisfied with it. Then our regularily scheduled program shall continue. but yeah, im basicly pretty miserable right now and need to pull the fuck back and figure out whatever the fuck it is i do.
August 3, 2012
Music Biz Q&A
Due to popular demand I'll be conducting a Music Business Q&A periodically via UStream and/or here on Tumblr. I get tons of messages here on Tumblr, Facebook and on Twitter regarding my career in the Music Business. Some would like to know how to break into it, what it's like working in it etcetera! Well, the Q&A's will be your chance to receive a response from a respected Music Business Professional who's been in the game over 10 years! Check out my 'who is Roz-O'section for a little background and my Business Blog as well! Oh and Follow me on Twitter! I'll post the date and time of the Q&A's soon and whether it will be via Ustream or Tumblr! The Q&A's will definitely be helpful to aspiring Rappers, Singers, Song writers, Producers and people wanting to work behind the scenes at Record Labels and Music TV Networks such as my former job MTV Networks! 
I can't wait to speak with you guys! xo @RozOonTheGo
FYI I'm also looking for Trend-setting Ambassadors! Hit me up if you have a HUGE following here on Tumblr and/or Twitter! x's and o's
June 11, 2012
AZEALIA BANKS Deletes Twitter, Say's She's 'No Longer Wishing to Be a Rapper':
Azealia Banks is making more waves on social media, this time taking to Tumblr to make a few career-altering announcements. 
In a post titled "No Longer Wishing To Be a Rapper," Banks explained that she would be considering herself a "vocalist" from now on, and that she deleted her Twitter account because it "makes [her] too accessible." 
"No longer wishing to be a rapper," she wrote. "i never was…. and as soon as i started paying attention to bulls—- urban media, i started getting myself in trouble. From now on i'm a vocalist, and will not be associating myself with the "rap game"… or whatever the f—- that means… no more twitter for me… it makes me entirely too accessible. Catch me on tumblr… it'll be more interesting." 
Banks created a stir on Twitter last week after news broke that she was splitting from Lady Gaga manager Troy Carter, whom she had signed with in April. Carter, for his part, told Billboard.biz "I can confirm that I ended the business relationship with Azealia last month on very amicable terms. She's incredibly talented and I wish her nothing short of an amazing career."
April 20, 2012
Good Afternoon Tumblr!! I just wanted to say THANK YOU so much for all the love that you guys give me everyday by way of: messages, reblogs, likes and follows! You are appreciated! I have reached 3,000 Posts! Wow! I remember when I started blogging and wondered if I'd be able to keep you all entertained and you have clearly showed me that my DOT com should happen sooner than later! The above picture is basically saying, thanks for having my back! I got you all big time when I launch my blog site! So cheers to the fuk'n weekend and cheers to you!
xxoo @RozOonTheGo