"MY LIFE, YOUR ENTERTAINMENT!"
Connected + Respected Entertainment Insider Roz-O is bringing you Lifestyle & Entertainment news as she jet-sets around the world! Get exclusive access behind the scenes of Music, Fashion, Sports & Film events & a glimpse of her 'ON-THE-GO' adventures. Roz-O's a force behind the scenes, cracking the blinds that shade her Entertainment Lifestyle for the first time! Roz-O says, 'I play the back, my peers put me in the front'. Google: RozOonTheGo
"Thanks for visiting my Personal Blog. The Official Blog Site coming 2014/2015. Wait for it!" - Roz-O!
Roz-O On The Go! The Brand. The Lifestyle. The Entertainment.
who is roz-O!?
roz-O endorsed!
social networks!
onTheGo!
Ask me anything
Submissions!
Follow @rozOonTheGo
October 29, 2012
October 26, 2012
October 24: Obama speaks with No Doubt backstage of The Tonight Show with Jay Leno.
Gwen's facial expression is everything!!! Love her & Obama as well of course! xo @RozOonTheGo
October 26, 2012
PRESIDENT OBAMA COVERS 'GQ' FRANCE! #salute
GO VOTE! BE COUNTED!
September 12, 2012
JAY-Z & BEYONCE Hosting OBAMA Fundraiser: 40/40
The Throne is watching out for the White House.
Jay-Z and Beyonce will host a fundraiser for President Barack Obama, according to the New York Post, which reported that the 100-person event will cost $40,000 a ticket.
The fundraiser will go down at Jay's 40/40 Club on Sept. 18.
President Obama made a surprise appearance via video at the MC's Made in America Festival in Philadelphia over the Memorial Day weekend. His ties to the hip-hop community remain strong, with Snoop Lion recently endorsing his re-election — though Nicki Minaj recently rapped that she'd be voting for Republican nominee Mitt Romney before tweeting that she'd been joking.
"Thank you for understanding my creative humor & sarcasm Mr. President, the smart ones always do…," she tweeted.
The presidential election will happen Nov. 6.
Via Billboard.com
Be sure to vote vote vote!!! xo @RozOonTheGo
September 6, 2012
Swift's got her Where's Waldo shirt on, and the furries are out in full force as the singer works through "We Are Never Getting Back Together." It's the night's most stripped-down performance, and as bad as she is at pretending to be surprised, Taylor definitely has the crowd going. It appears as though she got a room full of famous people to sing along to her jingle.
And that's it! Go watch Obama!
Via Today
Bravo to my former employer MTV! Congrats to all the winners tonight! Frank Ocean, you stole the show for me!  xo @RozOonTheGo
August 10, 2012
#myPresident #presidential-smiles
#justCuz
August 4, 2012
HAPPY 51ST BIRTHDAY MR. PRESIDENT!!!
July 9, 2012
U.S. President Barack Obama honors the New York Giants NFL team, winners of Super Bowl XLVI, during a ceremony on the South Lawn of the White House in Washington June 8, 2012. With Obama in the front row are (L-R) linebacker Zak DeOssie, defensive end Justin Tuck and quarterback Eli Manning.
June 6, 2012
PRESIDENT OBAMA Writes Absence Note for Fifth Grader: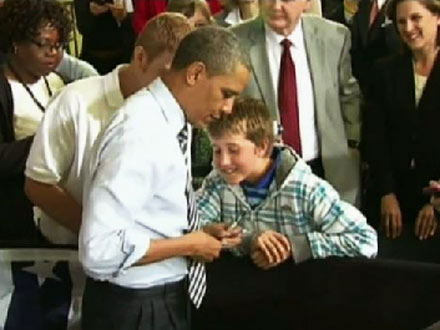 Fifth grader Tyler Sullivan went straight to the top to get his absence from school excused: He got a note President Barack Obama. 
Sullivan, 11, skipped school on Friday in order to go with his dad, Ryan Sullivan, to see the president speak at the Honeywell factory near Minneapolis where his father works. 
While the tween was there, he got a chance to shake hands with Obama, who volunteered to write a note to Sullivan's teacher explaining the boy's absence from school. 
"Mr. Ackerman –" reads the note, which is written on presidential stationery. "Please excuse Tyler … he was with me!"
The president spoke about creating jobs while at Honeywell, which has made it a priority to hire veterans, the Associated Press reports.
Via People.com
April 6, 2012
THE FIRST LADY COVERS EBONY MAGAZINE:
On raising Sasha and Malia:
MICHELLE OBAMA: "Barack and I feel that our greatest responsibility is to raise two productive, respectful, kind empathetic young women."
On counteracting negative depictions of women in pop culture for the girls:
"My husband talks to our girls about how he expects men in their lives to treat them, and he offers examples by how he treats me and how he treats them."
March 23, 2012
PRESIDENT OBAMA Speaks on the TRAYVON MARTIN Case:
"If I had a son, he'd look like Trayvon. I think [Trayvon's parents] are right to expect that all of us as Americans are going to take this with the seriousness it deserves, and we are going to get to the bottom of exactly what happened. Obviously, this is a tragedy. I can only imagine what these parents are going through, and when I think about this, I think about my own kids, and I think every parent in America should be able to understand why it is absolutely imperative that we investigate every aspect of this and everybody aspect of this, and that everybody pulls together — federal, state and local — to figure out exactly how this tragedy happened. I think all of us have to do some soul searching to figure out how does something like this happen. And that means we examine the laws and the context for what happened, as well as the specifics of the incident."
March 1, 2012
NFL Will Kick Off Season on A Wednesday To Avoid Conflict With Convention:
NEW YORK—Powerful as the NFL is, it's making way for President Barack Obama.
Opting to play a game on a Wednesday for the first time in more than 60 years, the NFL will open the regular season on Sept. 5, to avoid conflicting with Obama's speech at the Democratic National Convention the next night.
The Super Bowl champion New York Giants will host the Wednesday night season-opener starting at 8:30 p.m. EDT; their opponent hasn't been announced yet.
According to the league, it hasn't played a game on a Wednesday since Sept. 22, 1948, when the Rams faced the Lions.
The NFL regular season has started on a Thursday since 2002.
This year's change was announced by the league on Tuesday.
Via: SN
February 18, 2012
MINDLESS BEHAVIOR behaving themselves minutes before performing for the OBAMA'S :)
January 27, 2012
During an interview with VH1 News at the Sundance Film Festival, Aubrey "Drake" Graham admits to a dream role that he is secretly studying for.

"I hope somebody makes a movie about Obama's life soon because I could play him, that's the goal. I watch all the addresses. Anytime I see him on TV, I don't change the channel, I definitely pay attention and listen to the inflections of his voice. If you ask anyone who knows me, I'm pretty good at impressions." Drake stated. 

"I want to do something great," he said. "I want to do something for my culture: the younger people who are still in tune with everything going on. I'm actually writing with my friends right now," he continued.

You think wheelchair Jimmy has the acting chops to take on the role of one of the United States most dignified Black man ever?
January 4, 2012
'After a 10-day vacation in Hawaii, the Obama clan takes a short walk from the White House's South Lawn landing pad to their front door Tuesday.' That's sounds so dope…'to their front door'…some of you will look and understand where I'm coming from! #teamObama