"MY LIFE, YOUR ENTERTAINMENT!"
Connected + Respected Entertainment Insider Roz-O is bringing you Lifestyle & Entertainment news as she jet-sets around the world! Get exclusive access behind the scenes of Music, Fashion, Sports & Film events & a glimpse of her 'ON-THE-GO' adventures. Roz-O's a force behind the scenes, cracking the blinds that shade her Entertainment Lifestyle for the first time! Roz-O says, 'I play the back, my peers put me in the front'. Google: RozOonTheGo
"Thanks for visiting my Personal Blog. The Official Blog Site coming 2014/2015. Wait for it!" - Roz-O!
Roz-O On The Go! The Brand. The Lifestyle. The Entertainment.
who is roz-O!?
roz-O endorsed!
social networks!
onTheGo!
Ask me anything
Submissions!
Follow @rozOonTheGo
August 12, 2012
USA vs. SPAIN: 2012 SUMMER OLYMPICS
VERDICT? USA WINS! 107-100
August 1, 2012
AMERICA'S FAB FIVE - Mckayla Maroney + Kyla Ross + Alexandra Raisman + Gabrielle Douglas + Jordyn Wieber taking a bite out of the GOLD after taking first-place finish in the Women's Gymnastics team final on Tuesday in London! (Olympics)
Go to Twitter and follow them NOW: @Kyla_Ross96 @Jordyn_Wieber @GabrielleDoug @Aly_Raisman @McKaylaMaroney and @RozOonTheGo :)
July 27, 2012
SENEGAL + AUSTRALIA + POLAND + MALAYSIA
2012 PARADE OF NATIONS
#olympics
July 27, 2012
SWEDEN + SOUTH AFRICA + SPAIN + TOGO WALK THE '2012 PARADE OF NATIONS'!
#2012Olympics
July 27, 2012
OK, the UNITED STATES DELEGATION finally made their appearance in the 2012 PARADE OF NATIONS! With over 205 Countries competing in the 2012 SUMMER OLYMPICS and being a letter 'U', we expected the wait! And check out everyone taking pics and video with their iPhones lol! Technology sure has changed the way events are experienced! xo @RozOonTheGo
July 27, 2012
MICHELLE OBAMA Tells Team USA to Have Fun 'But Also Win!'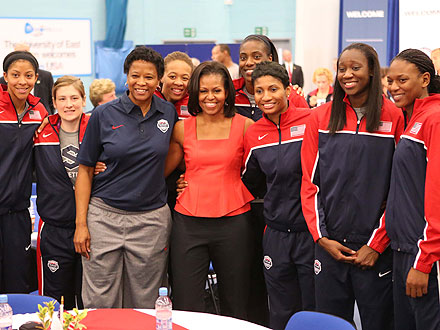 "Beyond proud" is how Michelle Obama told U.S. Olympians she felt while meeting with them on Friday morning, as the world awaits the evening's opening ceremony for the 2012 Summer Olympics. 

Over breakfast at an east London sports center with some of Team USA – including women's basketball players, fencing competitors and members of the track and field squad – the First Lady praised the inspiration they provide to those watching back home. 

"Some of my fondest memories growing up and as an adult involve watching the Olympics on TV," Mrs. Obama told them. "My family would sit together for hours watching these men and women perform feats of endurance speed that would have us cheering at the top of our lungs." 

She added, "My brother and I would dream about how maybe one day we might be able to achieve something just as great for ourselves."